Connecting the N8108-01 4-way Intersection Signal Simulator
Product & installation overview:
This N8108-01 is designed to provide centralized connection for LEDs and series wired LED pairs connected to pad pairs A through H, which simulate a 4-way traffic intersection with timed lighting effects. DC power input is to be connected to the DC+ and DC– solder pads as indicated in Fig.1 below. This module is not designed for filament type bulbs.
Utilizing the one of the industry's most advanced microcontrollers and highly regulated voltage control circuitry, this total module consumes less than 140ma of current during normal operation with all LEDs attached. The 8-component switching buck regulator circuit maintains on-board power regulation within 2% while input voltage can range from 7.5 to 20 volts DC. All connected LEDs are supported by on-board resistors for current protection (and brightness balancing & control), so wiring is very simple.
Connecting the N8108-01:
The module's tiny size and thin construction will allow it to be placed so it is easily hidden from view. The module only has circuitry on the board top side. The bottom of the board is electrically –DC and can be used for mounting with the small square double-sided sticky foam pad that is included in this package.
Included with the module are three 6" lengths of #32 insulated wire (red, black & violet). These can be used for power input wires & control wires. If used, the red wire should be soldered to the +DC solder pad, the black to the –DC pad. The violet wire can be used for grounding (–DC) pad M to initiate the signal effect.
Important note: A low-wattage iron with a pointed tip should be used for connection of wires. Too much heat or solder can easily damage the wires or module and void the warranty.
When connecting the wired LEDs, proper polarity must be observed. LEDs are "polarity sensitive" and will not function if connected backwards. The N8108-01 is designed to provide for easy visual determination of proper LED polarity. As shown in Figure 1, There are solder pad pairs on the board designated as A, B, A2, C, D, E, F, G and H. The oval shaped pads are for + (anode) LED connections, and the rectangular pads are for the – (cathode) LED connections.
NOTE: This module is designed for connection of 20ma LEDs. It does not support filament type incandescent bulbs.
Figure 1
N8108-01 program configuration:
CONTROL:
Grounding (–DC) pad M momentarily will allow the traffic signal sequence to cycle through one time. Continuously grounding pad M will allow the intersection to loop continuously.
Figure 2 below shows LED wiring connections to pad pairs for the 4-way traffic intersection Simulator board.
Series wired LED pairs are individually wired LEDs with the first LED cathode (–) connected to the second LED anode (+) This connection (soldering of the 2 wires) can be located at any point under the display. Be sure to insulate the soldered connection of these wires.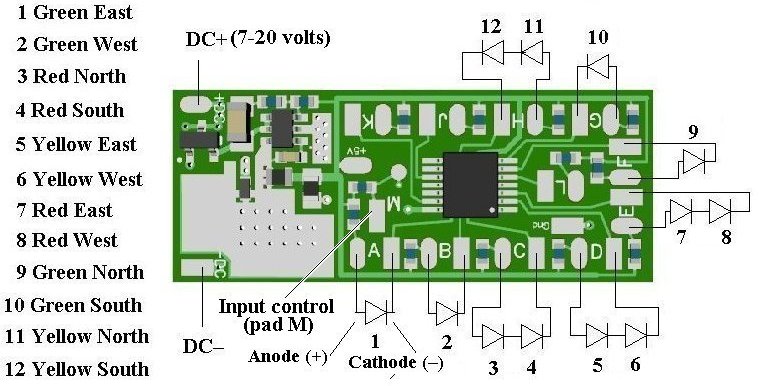 Figure 2
This completes hookup of our N8108-01 Intersection Signal module. We hope the added realism it provides enhances your enjoyment of the hobby.
© 2020 Ngineering